What is Speed Dating and How Does it Work?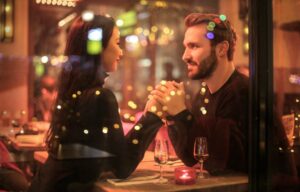 Dating isn't always easy, especially when you have a busy career and a full social life with friends too. Which makes it hard for singles to find the time to meet that special someone and start a relationship.
Really, what singles need is a special night where they can meet lots of other singles at the same time, which will give you the best chance at finding that person you want to date. Which is where speed dating comes in!
What is Speed Dating?
A speed dating event is a fun way for lots of singles to attend one event together, with the idea being that you're far more likely to meet someone you'd like to date as you'll chat to so many other singles that night.
Generally, these events might have around 40 singles and different nights will be aimed at heterosexual and LGBT singles, that way you'll always have the largest number of people with the same orientation as yourself.
On the night itself, half the singles will be given a table to sit on and the other half of the singles will rotate around these tables on a timed basis. After each date, each single will mark on a card if they'd like to meet that person again, with the hope being that if you chat to someone you like, they will also want to go on a date with you too.
What Are the Rules of Speed Dating?
To make sure a speed dating event runs smoothly, there are certain rules everyone attending needs to follow – otherwise the singles won't get the most out of the evening. So, what are the general rules of speed dating?
Every 'date' will run for approximately 4-5 minutes, which should give you a chance to learn some key information about that person and determine whether there might be a spark of attraction there.
When the time ends, a bell will sound and it is generally the men that will get up and move onto the next table to meet someone else.
After each date, the singles will comment on a card to say whether they would be interested in meeting up with that person again. When you get home you can log into your account and chose the people you would like to see again, if the other person does the same then it's a match and you can contact each other via our online messaging system
Once the speed dating event is over, it's up to you to arrange a date with anyone you met that night. Not to worry if you didn't meet anyone special that night though, there are always plenty more speed dating nights where you could meet your soulmate!
What Are the Advantages of Speed Dating?
Intrigued by the idea of speed dating but still not sure if you want to make the leap and book in for an event? Well, these speed dating advantages might just help you make that leap into trying out speed dating for the first time:
Speed Dating Saves You Money and Time
Perhaps you try to meet dates on a regular night out to a bar, or maybe you use online dating apps trying to find your perfect boyfriend or girlfriend. Either way, this method of meeting singles can be very laborious, requiring you to message or chat with one person for a long time before deciding you want to go on a date.
This is especially true with online dating, where you can chat for weeks, then find yourself on an awkward date where there is no real attraction between you both in person.
Instead, with speed dating, you can meet 15-20 singles all in one night, which saves you a lot of time. As, not only can you see if you're attracted to them in person, you also get to chat and make that initial impression very quickly, without wasting a full night on one date.
Speed Dating is Less Awkward
We've all been on a terrible date, where we'd love to escape out the bathroom window. Perhaps they're not as attractive as you remember after those cocktails you drank before asking them out. Or, it could be that there's no flirty banter between you both and you're just bored.
By meeting a single at speed dating, though, you should have already discovered in that short amount of time about whether your personalities match and that you find that person attractive.
Plus, with so little time to chat during speed dating, you can get all those awkward questions that you'd like to know out the way, such as their age, occupation, whether they have kids already etc. Which means, if you have any dating no-no's like no smokers or that they're over a certain age, you can find out about it before you go on a real date.
Most importantly, speed dating is a proven way for singles to meet their perfect match. Which means, if you're struggling to meet someone special in your life you have nothing to lose by getting yourself booked into a speed dating night.
Even better, you don't need to go alone, book into an event with some of your friends and make a proper night of it. Not only will you have a fun night out, you could meet your future husband or wife!